ATTRACTIONS //
Walking Trails
As you stroll through the garden, you will find trail signs that guide you along the most interesting areas. You will be in awe as you meet with the infinite variety of colorful orchids, exotic birds, majestic trees, varied tropical plants, and much more. Enjoy taking pictures on strategic spots, and also take advantage of our observation and relaxing sites.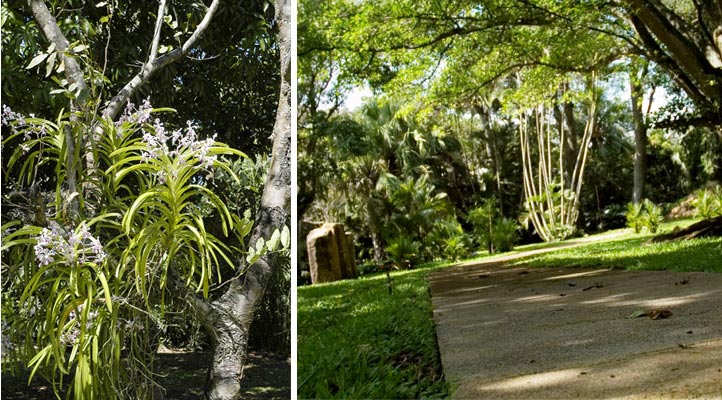 ATTRACTIONS //

Demo Nursery

You will have the opportunity to learn about the fascinating orchid cultivation and how to give maintenance to your own. Our "Cultivation Steps" nursery contains a complete guide about orchid life cycle, which explains in a very dynamic way how the plant develops from seed to flower.





ATTRACTIONS //
Show Room
Enjoy our permanent orchid flower exhibition. We have an exclusive greenhouse suited perfectly to display the great variety of hybrids and species present in our collection. Throughout the year, flowering is varied and continuous. January, February, and March are the months with the highest peak in flowers. During this time, you can appreciate flowered species from various countries. One example of this is the "Guaria Morada" Costa Rica's national flower. Other types of orchids, such as hybrids can bloom up to four times a year; this means that no matter the season, you will always find surprising orchid flowers in our garden.

ATTRACTIONS //
Laboratory
The laboratory provides us with a specialized area where we work specifically with the reproduction and continuation of our species and hybrids. Working with studied methods, we assure the breeding and conservation of orchids. Collecting plants from their natural habitat is a conduct that we strictly forbid; instead we devote ourselves to orchid cultivation in order to spread them along our gardens and to give orchid lovers an opportunity to take care of them in the comfort of their homes. One of the biggest achievements in the Orchid Garden is that the majority of the plants living in the garden were produced in the laboratory, and eventually integrated into the garden.

ATTRACTIONS //
Water Gardens
Take a break and relax within one of our varied water scenarios. Water gives the garden a peaceful feeling; since it evokes all the senses. Contemplate koi fish, turtles and even curious insects that benefit from this precious element; while your sight, touch, and feel enjoy their serenity.